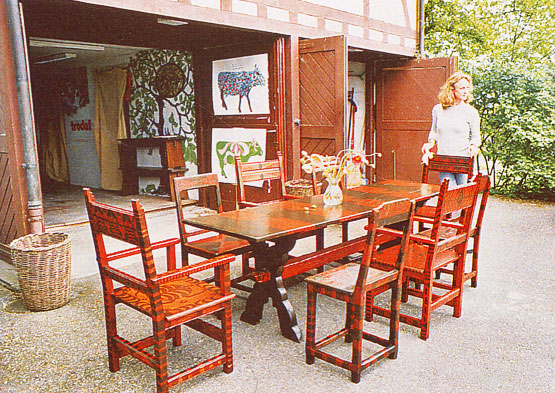 About Me
Ever since I was a child, in primary school, I loved painting and dancing, and my parents offered me private painting lessons and I went to ballet school for many years.
After having accomplished my high school degree and a certificate in business administration in 3 languages (German, French and English), I lived in Cambridge, London, Paris and Florence, where I acquired my language skills in higher degrees. In these cities I also had the opportunity to grow up in many ways, as well as to learn, appreciate and distinguish many fields of art and its backgrounds. I strolled around in museums, galleries and attended art and history lectures. In Paris, I studied at the Sorbonne art and literature about the period of Romanticism (Baudelaire, Verlaine).
But my favourite and my inspirational city was definitely Florence and its language. There I discovered the culmination of beauty in its culture, architecture, painting, music, places, people, climate, landscape, food and wine. I fell in love with Michelangelo, Tintoretto, Cimabue and contemporaries! I went to concerts in churches and became a lover of Dinu Lipatti, Scarlatti, Pergolesi, Vivaldi, Verdi...
Nevertheless, destiny brought me back to Switzerland and I got married in 1972. With my husband, a dentist, we worked for catholic Medical Mission Board in Haiti for 7 months; I helped him as a unskilled but willing assistant.
Many travels in-between his University degrees took us to India, shortly also to the Cleft Children Organisation in Hyderabad. By car we reached Goa, where we lived a little Hippie Life for a while and other adventurous travels followed to the Moroccan and Syrian desert. All these trips inspired me in many ways: mentally, emotionally and artistically.
In 1977 Sophie was born, in 1980 our son Vincent and in 1982 Dinah. Growing up a family was the topic of these times.
In 1987 I took a family "sabbatical" for 2 months and took the chance of the moment to learn at the Lennard Pardon School in New York the art of Trompe l'Oeil, which nourished my growing needs to use my slumbered skills.
I came back home and, thanks to my husband, who changed his garage into an atelier, I could start off my painting career with all my enthusiasm. In spring 2002 I went to Venice and acquired the technique of the classical and modern fresco at the "Centro Europeo di Venezia per i Mestieri della Conservazione del Patrimonio Architettonico".
In 1991 we bought a 300-year old farmhouse ruine in Tuscany, which we gradually transformed into a family house (Villa Banditelle Blu). This house and all of it, in and around it, mirrors the perception of me and my husband and all which could be designed or painted has been done with my brush, which I plunged into colour and love.