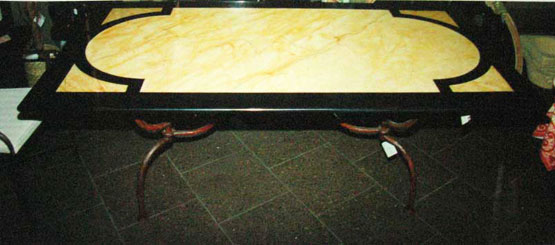 Table Art - Trompe L'Oeil
The technique I first started to develop is actually a very old one, which dates back to Egyptian times (1000 b.C.). Later on, also the Romans cultivated this art and reached sophisticated interpretations and effects (Pompei).
Today, this technique is called Trompe l'Oeil ("cheat the eye") within decorative arts.
In 1987 I studied at the Leonard Pardon School in New York (see About Me), where I acquired the basic skills of this technique. Its intricacies and the many ways of reaching the best results were fascinating: I applied an oil paint wet in wet technique on a base of glaze. This is what the students learn to practise on big panels.
In these times New York experienced a renaissance of Trompe l'Oeil and Faux Marbre and the town was booming with it in the interior world. My teacher Leonard Pardon was the one who painted all the Palace of Brunei in Faux Marbre!
But my plan was not to imitate nature; I later trained myself on another interpretation, which I started to realize on table tops.
A specialist developed a two-component varnish, which he skillfully sprayed in many layers over the painted table top in order to protect the object against heat, cold, liquids and scratches, and to give it the perfect finish of a silken smooth touch.
The table top may be laid over an existing smaller table to enlarge it, or a new base can be created for it, for instance in metal or plexiglas. As it became a topic, I myself started to design these bases and had them to realize at the specific specialist.
Little by little, I started to paint for a friend, then for another, and my assignments became more and more. I got commissions by companies, furniture shops and private clients.